Welcome to the website of the division Biofunctionality and Safety of Food, led by Jan Frank, at the Institute of Biological Chemistry and Nutrition at the University of Hohenheim.
______________________________________________________________________________________________
NFS Journal is the new peer-reviewed, open access scientific journal published by the Society of Nutrition and Food Science in cooperation with Elsevier. 
NFS Journal publishes cutting edge research in the fields of basic and applied nutrition and food science and is in the hands of the Editor-in-chief Prof. Jan Frank and Deputy Editor-in-chief Prof. Walter Vetter. Please visit the journal homepage for the full Aims and Scope and the Editorial Board, which consists of more than 30 experts from 18 countries and all continents. 
The journal invites submission of high-quality original research articles and methods papers presenting cutting-edge scientific advances as well as review articles on current topics in all areas of nutrition and food science. The journal particularly invites submission of articles that deal with research at the interface of nutrition and food science and thus connects both disciplines. 
Submit your work to NFS Journal to receive global visibility of your research.
The open-access journal will feature a new article format Registered Reports, which allows researchers to submit their innovative hypotheses and experimental procedures for testing them, and have them evaluated by members of the editorial board and outside expert reviewers before they begin their laboratory work. This creates the opportunity to receive feedback from peers, correct mistakes and optimise experiments, which in turn enhances the quality of the generated data.
If the pre-registered hypotheses and procedures adhere to the highest scientific standards, are positively evaluated by the peers, and the registered procedures are followed strictly, the acceptance of the Registered Report is guaranteed irrespective of the outcome of the study, thus eliminating publication bias once and for all.
When analysing your data, you may discover novel aspects that are exciting, but were not part of the pre-registered procedures. In order for authors to react to such unforeseen and exciting results and to explore new paths that have not been anticipated, it will be possible to include additional exploratory analyses in a special section of the Registered Reports.
______________________________________________________________________________________________
Paper of the year 2014


Our paper The oral bioavailability of curcumin from micronized powder and liquid micelles is significantly increased in healthy humans and differs between sexes was the article with the most downloads from the website of Molecular Nutrition and Food Research in 2014 and therefore selected as the journal's Paper of the year 2014. In this article, the lead authors Christina Schiborr and Alexa Kocher report the results of a crossover human trial identifying micellar solubilisation as a technique to increase the oral bioavailability of curcumin 185-fold over native curcumin.
______________________________________________________________________________________________
The German Federal Government gives an account of our curcumin research on its website
Dr. Jens Schmidt of the Federal Press Office talked with Professor Frank about nutrition research in general and his research on the health-beneficial effects of curcumin performed at the University of Hohenheim in cooperation with his partners and the problems that will have to be solved in future resarch to make the best use of the potential of this plant compound. The story and the interview (audio stream) with Professor Frank can be found on the website of the Federal Government. 
______________________________________________________________________________________________
Professor Frank was invited into the editorial board of The Journal of Nutritional Biochemistry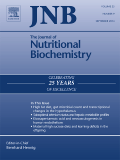 The Journal of Nutritional Biochemistry, with an impact factor of 4.592,  is devoted to advancements in nutritional sciences and presents experimental nutrition research as it relates to: biochemistry, molecular biology, toxicology, or physiology. 
______________________________________________________________________________________________
Congratulations, Dr. Schiborr!
Christina succesfully defended her PhD thesis "Investigations on the biological availability and activity of curcumin in vivo" and impressed the examination board with her profound knowledge. Christina will remain in the group and contribute her expertise as a postdoctoral researcher within the project "Functional foods from stabilized ricebran extracts for the ageing society".
______________________________________________________________________________________________
Recent publications
The oral bioavailability of curcumin from micronized powder and liquid micelles is significantly increased in healthy humans and differs between sexes
The health-beneficial activities of curcuminoids, and in particular those of the major curcuminoid curcumin, have been extensively studied. Because of their low aqueous solubility and rapid metabolism in the small intestine and liver, the oral bioavailability of curcuminoids is very low and limits their use in the prevention and therapy of diseases. In the course of our BMBF-funded research network, we developed, together with our partners, two novel oral formulations of curcuminoids and investigated their absorption and excretion kinetics in a single-blind, randomized, crossover trial in healthy humans. We observed a 9-fold and 185-fold increase in the area under the plasma concentration-time curve (AUC) with our micronized and micellar curcumin, respectively, relative to native curcumin. The micellar formulation in particular increased the absorption of curcumin (453-fold increase in Cmax) to a hitherto unrivaled extent. The article describing the findings from this trial was published in Molecular Nutrition and Food Research.
The senescence-accelerated mouse-prone 8 is not a suitable model for the investigation of cardiac inflammation and oxidative stress and their modulation by dietary phytochemicals
Reduced mitochondrial function and, consequently, availability of cellular energy in the form of ATP, particularly in brain cells, are hallmarks of ageing. Frequent consumption of phytochemicals, such as curcumin, is thought to aid in the prevention of age-dependent mitochondrial dysfunction. 
There is a need for animal models that display some of the pathological features of human brain aging in order to study its prevention by dietary factors. We examined the suitability of the fast-ageing SAMP8 mouse strain and its normally ageing control strain SAMR1 as a model for the age-dependent changes in mitochondrial function in the brain. Seven months old SAMP8 mice had significantly lower mitochondrial membrane potentials and ATP concentrations in dissociated brain cells than SAMR1 mice. Dietary curcumin partly prevented the mitochondrial dysfunction in SAMP8 mice by enhancing mitochondrial fusion and inducing PGC1α. Hence, SAMP8 compared to SAMR1 mice are a suitable model to study age-dependent changes in mitochondrial function and curcumin emerges as a promising nutraceutical for the prevention of neurodegenerative diseases that are accompanied or caused by mitochondrial dysfunction. 
This work, which was performed in collaboration with Dr. Eckert's group, was published in Neurochemistry International.     
High-dose supplementation with natural α-tocopherol does neither alter the pharmacodynamics of atorvastatin nor its phase I metabolism in guinea pigs
It has been hypothesised that the intake of high doses of vitamin E may induce the expression of enzymes involved in xenobiotic metabolism, particularly cytochrome P450 monooxygenases (CYP), and may thus alter the pharmacokinetics and pharmacodynamics of prescription drugs. Our previous research, however, suggested that
 CYP expression is not altered by vitamin E. In order to test the hypothesis that high-dose vitamin E intake may affect the activity of the most commonly prescribed lipid-lowering drug atorvastatin, we fed guinea pigs a Western type diet (high-fat control) and treated them with either atorvastatin or RRR-alpha-tocopherol alone or in combination. The vitamin did neither alter the expression of CYP, nor the metabolism of atorvastatin. Accordingly, the cholesterol-lowering activity of the drug was unchanged during high-dose vitamin E treatment. The work has been accepted for publication in Toxicology and Applied Pharmacology and can be read here.
Rapid baseline-separation of all eight tocopherols and tocotrienols by reversed-phase liquid-chromatography with a solid-core pentafluorophenyl column and their sensitive quantification in plasma and liver
We developed and validated the first reversed-phase HPLC method for the baseline separation of all eight vitamin E congeners. 
The developed method uses a solid-core pentafluorophenyl stationary phase and achieves baseline separation of all eight vitamin E congeners within 15 min at a backpressure of 23 MPa, which is suitable for most conventional HPLC systems. The method is fast, linear, accurate, and precise with detection limits of 27-156 pg and good recoveries (82-122%) for all analytes. 
The paper describing this work was published in the Journal of Chromatography A.
______________________________________________________________________________________________
Professor Frank has joined the Editorial Board of BioFactors, an official publication of the International Union of Biochemistry and Molecular Biology (IUBMB), where he serves as editor since January 2013.
BioFactors (2013 Impact Factor 3) is aimed at increasing our understanding of the precise biochemical effects and roles of the large number of trace substances that are required by living organisms. These include vitamins and trace elements, as well as growth factors and regulatory substances made by cells themselves. 
______________________________________________________________________________________________SFRR-E / IUBMB Advanced School "Dietary factors and redox signalling"
The bi-annual summer school of the Society for Free Radical Research - Europe, which was co-sponsored by the International Union of Biochemistry and Molecular Biology (IUBMB) and COST action CM1001, was held and successfully completed on Spetses in Greece. A big Thank you! goes to all the speakers, who gave interesting lectures, the students for their interesting poster presentations, questions and discussions, and the sponsors for providing the financial resources for this summer school. 
______________________________________________________________________________________________Dr Frank is now Co-Editor Europe for the scientific journal Nutrition
Dr Frank was appointed as co-editor for the Elsevier journal Nutrition and will handle manuscript submissions from Western European countries. Nutrition publishes advances in nutrition research and science, informs about new and advancing technologies and new data in clinical nutrition practice, encourages the application of the techniques of outcomes research and meta-analyses to problems in patient-related nutrition; and seeks to help clarify and set the research, policy and practice agenda for nutrition science to enhance human well-being.
The 2013 Impact Factor for Nutrition is 3.046.
______________________________________________________________________________________________New Impact Factor 2013
The 2013 Impact Factor of "Plant Foods for Human Nutrition", a peer-reviewed scientific journal where Dr. Frank serves on the editorial board, is now 2.416. 
All colleagues who wish to publish original research or critical reviews concerning the evaluation or improvement of the nutritional quality of plant foods (e.g. health beneficial effects of bioactive ingredients or novel formulations, development of functional foods etc.) are invited to submit their manuscripts via the online submission system of the journal.